According to the US Department of Labor, "employment of medical assistants is expected to grow 34% from 2008 to 2018, much faster than the average for all occupations, ranking medical assistants among the fastest growing occupations." Clinical Medical Assistants have various duties depending on the size and specialty of the medical facility.

We only start students at one point...the beginning. Merit Training Institute believes revolving start dates only serve to pad the pockets of the school, and at the student's expense. There is no way for someone to start in the middle of a program and have the building blocks necessary to excel. To have students start in the middle of the program is a disruption, with the instructor having to back up to cover necessary subjects like medical terminology and anatomy, wasting precious teaching time. These subjects are building blocks in which all other subjects are built on. Our maximum 12 to 1 student/teacher ratio means lots of one-on-one time with the instructor.

Merit students are taught Electronic Health Records (EHR), and are eligible to sit for their EHR certification. This highly sought after certification helps Merit graduates get placed faster and in better jobs than other schools. With small class sizes, externships and an instructor with over 20 years experience, Merit graduates have a definite edge over students graduating elsewhere with less skills!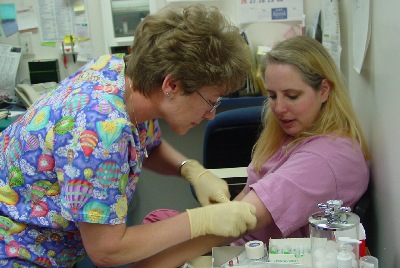 Some common tasks include: taking medical histories, recording vital signs and assisting physicians during exams. They are often relied upon to collect and prepare laboratory specimens, draw blood, give injections, take electrocardiograms, change dressings, assist with minor office surgeries and so much more. This course prepares you to enter positions as Clinical Medical Assistant professionals. Main subjects covered include: Medical Assistant, Phlebotomy/Venipuncture and Electronic Health Records (EHR/EMR).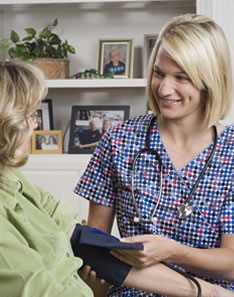 Students will learn how to take a patient's blood pressure, perform CPR, vital signs, physical examinations, first aid, conduct clinical procedures and urinalysis. Students will also learn how to perform EKG's, draw blood, and diabetic testing. Areas of study include medicine, hematology, sterilization, disinfection, laboratory, microbiology, radiology, asepsis, diseases, arrhythmias, pharmacology, medication/drugs, and IV therapy. The Medical Office component of the program covers personal medical records (PMR), record keeping, OSHA and HIPAA Regulations. Software covered includes Medisoft Billing Software and EHR Software. The course also covers medical terminology (prefixes, suffixes, body systems, abbreviations and root words), anatomy and physiology (A&P) through all the different body systems. Additionally, law, ethics, and privacy are covered.

Included in this course is CPR training (also known as BLS - Basic Life Support) through the American Heart Association. These certifications make Merit graduates a stronger candidate when up against those graduating from other programs.

Students do not require previous medical experience to enroll. This program teaches to the secondary level. Students will graduate well prepared to pass multiple national exams, and enter the 'in demand' and growing Medical Field!